Italian style corn penne - revised version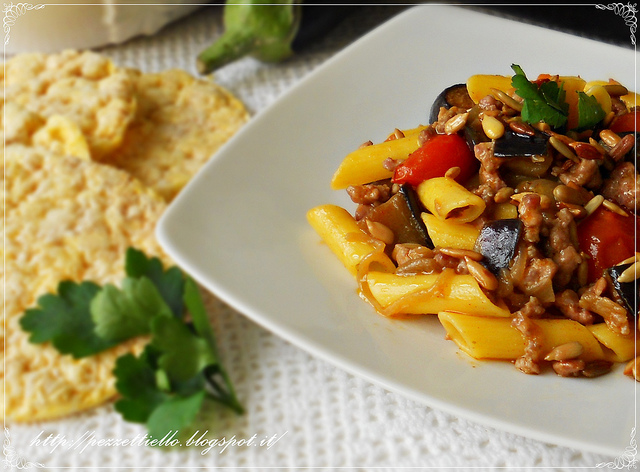 Ingredients
Sarchio corn and rice penne
Sarchio sunflower seeds
minced pork
1 carrot
2 yellow onions
Sarchio extra-virgin olive oil
sweet paprika
2 aubergines
1 Sarchio vegetable stock cube
salt
1 clove of garlic
5 cherry tomatoes
fresh parsley
Sarchio corn cakes
Procedure
Heat a little bit of oil and toast the sunflower seeds; set them aside.
In the same pan fry lightly the thinly sliced vegetables: onions and carrot. Add the minced pork, salt, sweet paprika and let it cook.
Cook the pasta, add it to the sauce pan and cook for a couple of minutes.
Add the toasted sunflower seeds on the top and serve.
Recipe courtesy of Ms. Antonella Cacossa - Le Torte di Pezzettiello e non solo...
http://www.letortedipezzettiello.com